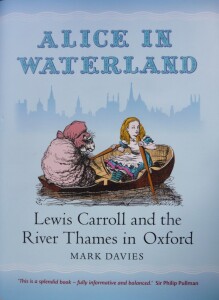 2023 REVISED EDITION (HARDBACK)
"This is a splendid book – fully informative … and marvellously detailed. It is a really important addition to the literature of Lewis Carroll and Oxford." Philip Pullman
A world-famous Oxford story from a new angle: the essential role played by the River Thames in the creation of Alice's Adventures in Wonderland and Through the Looking-Glass.
It was on rowing trips with Alice Liddell and her sisters that Lewis Carroll (the Oxford don, Charles Dodgson) invented many of the tales which were later incorporated into his two books; it was on the river bank on 4 July 1862 that Wonderland had its birth; and it was from particular incidents on or near the Thames that Carroll drew inspiration for of the best-known episodes.
Combining excerpts from Carroll's diaries and the 'Alice' books with contemporary images, memoirs, and fiction, Alice in Waterland sets the Oxford scene of the time, and sheds new light on the real places which stimulated Carroll's imagination and on the real individuals who inspired such characters as the Hatter, the Sheep, and the Red Queen. (For more on the Hatter, see Mark's article in the Times Literary Supplement: http://www.the-tls.co.uk/tls/public/article1259474.ece)
The book takes the reader on a literary journey of discovery along some ten miles of the picturesque yet changeable river of which the 'merry crew' were all so fond.
"Full of enthralling information … intelligent and comprehensive." Lewis Carroll Society
"A lovely book; simultaneously scholarly and fun." Oxford Times
"Packed with lively and enthusiastic speculation." Times Literary Supplement
"Rich in anecdotal and period detail." Oxford Today
"The qualities of this charming and informative book make it enjoyable reading for both tourists who want to know more about Carroll's inspirations, and scholars specialising in Carroll." Bandersnatch
PRICE £12 including p&p via Lewis Carroll Society:  www.lewiscarrollsociety.org