Oxford Water Walks, Oxford Towpath Talks, and Oxford Towpath Press are brought to you by Mark Davies.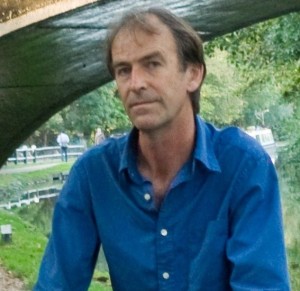 Mark Davies is a historian, author, public speaker, guide, and publisher specialising in the history of non-University Oxford, with a particular focus on the city's waterways. Most of Mark's early life was spent by the sea – in Hampshire, Sussex, Kent, and South Wales – but his interest in inland rather than coastal waters grew as a result of a chance decision to live on a canalboat in central Oxford in 1992, after living in Abingdon for a couple of years.
Since then Mark has written and published six Oxford local interest books, four of which are currently in print: A Towpath Walk in Oxford (2001/2012), The Abingdon Waterturnpike Murder (2003/2008),  Alice in Waterland (2010/2012), and Alice's Oxford on Foot (2014).
Mark is a regular contributor of articles on various aspects of Oxford's local history to the Oxford Times' Limited Edition magazine, and also writes occasionally for national history and waterways' magazines. He composed the text for the three-mile Oxford Canal Heritage Trail, from central Oxford to beyond Wolvercote – see Recommended Sites – and for the Royal Geographical Society's 'City of Streams and Spires' waterside walk to Sandford-on-Thames.
Mark speaks to organisations all over Oxfordshire on a variety of local themes, and leads walks through little-visited parts of Oxford for a range of local and international organisations (including many Oxford colleges), and at annual events such as Oxford Preservation Trust's "Open Doors", and The Story Museum's "Alice's Day". He also provides commentaries on Thames' cruises operated by Oxford River Cruises and has hosted Mad Hatter's Tea Parties at Christ Church.
Mark still resides on his boat, 'Bill the Lizard', in central Oxford, and has been active in the much-publicised ongoing campaign to retain a boatyard in the Oxford suburb of Jericho.