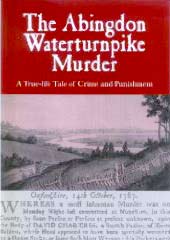 The Abingdon Waterturnpike Murder
A True-life Tale of Crime and Punishment
NO LONGER IN PRINT, but a summary appears in my revised and expanded 2019 edition of Stories of Oxford Castle.

On October 8th 1787, a man is robbed and murdered on his way home from Abingdon's Michaelmas Fair. As the investigation proceeds, a surprisingly wide-ranging, well-organised criminal underworld is revealed, along with the likelihood of a deliberate miscarriage of justice.
In addition, many notable aspects of late eighteenth-century life are revealed: the colour and excitement of a traditional country fair, the perilous lives of river boatmen, the brutal notoriety of prize-fights, the severity of service in the county Militia, the lawlessness of London's suburbs, the all-pervading influence of alcohol and brewing, the gruesome allure of public executions, and the peculiar regime of the 'wooden world' of the Georgian navy.
These and many other extraordinary, emotive, and shocking aspects of eighteenth-century life are uncovered in a book which will appeal to anyone interested in murder mysteries, the law, or the local history of Oxfordshire and Berkshire in general.
© Oxford Towpath Press 2003, 2008.