No public tours remaining in 2021, but lots of public events below: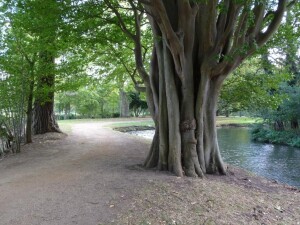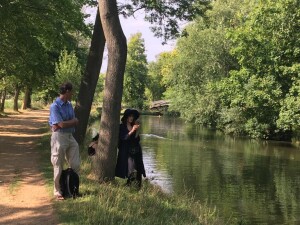 In normal times, most of my WALKS are for pre-booked tours (starting at £60 inclusive for up to 20/24 people). However, if you as an individual, or as part of a small group, would like to arrange a walk, do please still feel free to get in touch at oxfordtowpathpress@gmail.com. Or, for £30 for up to five people (lasting 90 minutes or so), you can suit yourself as to start time time and exact route.
Not sure? Please have a look at my (sadly unmaintained!) 'Customer Comments' page.
+
Sat 16 October: 'Alice in Waterland' talk as part of the Lewis Carroll Society of America's 'Radio Alice' Online Meeting featruring many other speakers.

Starts 5pm UK time, with a number of speakers and other items presented as if a radio broadcast
https://www.lewiscarroll.org/events/
There is no charge to access this Zoom meeting.
+
Sun 17 October – Oktoberfest – Mount Place, Jericho – 12 to 5pm:
Music, food, book stalls (including mine) and more, along the lines of this one held in July: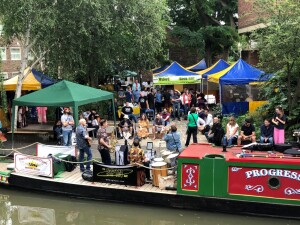 Photo: Peter Stalker. Details: johnmair100@hotmail.com
Thurs 4 Nov. – Free Talk: 150 years of Through the Looking-Glass and What Alice Found in Oxford
Oxford Civic Society talk (non-members welcome) at Magdalen College, 8pm
https://www.oxcivicsoc.org.uk/programme/
Sat. 6 Nov – Oxford Indie Book Fair: 10.30am onwards

Wesley Memorial Church, New Inn Hall Street, Oxford
including WALK: 12 noon (if sufficient numbers). One-hour 'Damnable Daniel's Oxford' tour, including the Oxford Canal and Castle Mill Stream. Free (maximum 15 people). Some steps. To reserve a place or for more information send an e:mail to: oxfordtowpathpress@gmail.com
+
Tues. 9 December at 6pm – Museum of Oxford, Town Hall, St Aldates
TALK:  What a Liberty! Some of the more dramatic, significant and amusing incidents in which Oxford's Mayors and Freemen have been involved during five centuries of undertaking ceremonial circuits of the ancient boundaries of the city, also known as the franchise or liberty. Tickets £5
https://museumofoxford.org/event/what-a-liberty-with-mark-davies
+