MANY SCHEDULED WALKS & TALKS HAVE, OF COURSE, BEEN POSTPONED ON ACCOUNT OF COVID-19 BUT LOOK OUT FOR SOME "LYRA'S WALKS" (arranged via Experience Oxfordshire) in  2021 – inspired by the popularity of the BBC TV adaptations of Oxford author Philip Pullman's "His Dark Materials". Also "Belle Sauvage" Thames cruises to Godstow with Oxford River Cruises.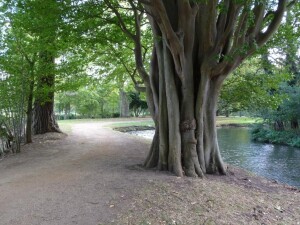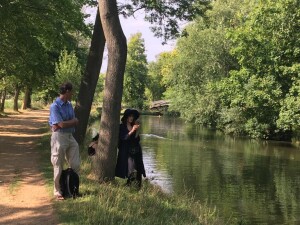 In normal times, most of my WALKS are for pre-booked tours (starting at £60 inclusive for up to 20/24 people). However, if you as an individual, or as part of a small group, would like to arrange a walk, do please still feel free to get in touch at oxfordtowpathpress@gmail.com. Or, for £30 for up to five people (lasting 90 minutes or so), you can suit yourself as to start time time and exact route.
Not sure? Please have a look at my (sadly unmaintained!) 'Customer Comments' page.
+
Lazy Sunday – Jericho – 5 September – 12 to 5pm:
Music, stalls (including mine) and more, along the lines of this one held in July: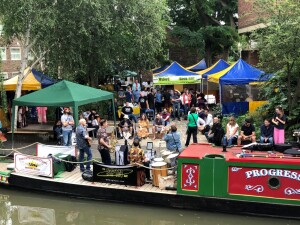 Photo: Peter Stalker, Details: johnmair100@hotmail.com
+
Canal Day at Banbury – Sat 2 October –
Boat trips, tours of Tooley's historic boatyard and working forge, and a chance to learn about Kilsby, a 1912 narrowboat being refurbished for use as an educatinal cruise vessel and theatre boat. https://www.kilsbytheatreboat.com/
More details to follow …
+
Oxford Indie Book Fair (rearranged date after postponement from April, then June 2020):
6 Nov 2021: Wesley Memorial Hall, New Inn Hall Street, Oxford
WALK: 12 noon (probably). One-hour 'Damnable Oxford' historical and literary tour, including the Oxford Canal and Castle Mill Stream. Cost £5 per person (maximum 20 people). Some steps. To reserve a place or for more information send an e:mail to: oxfordtowpathpress@gmail.com