MANY SCHEDULED WALKS & TALKS HAVE, OF COURSE, BEEN POSTPONED ON ACCOUNT OF COVID-19 BUT AS FROM 14 AUGUST I AM ABLE TO OFFER THE FOLLOWING FOR PRE-BOOKED GROUPS OF UP TO FIVE PEOPLE:
Small Group Walks: Christ Church Meadow, Oxford.
Have you had enough of being indoors? Of your own company? Of a lack of local historical distractions? Mark Davies is pleased to announce that he can offer a solution. Having taken the precaution of acquiring Visit England's 'Good To Go' authorisation, requiring an awareness of social distancing guidelines, he is now offering historical and literary walks around Christ Church Meadow. This is a route which touches on many of the topics on which Mark gives illustrated talks in normal times: the surprising realities within Lewis Carroll's 'Alice', and a range of other literary references; plus the Civil War; the early University boat races; James Sadler, the Oxford hot-air ballooning pioneer; and the 399-year-old Botanic Garden. The wide paths of the Meadow are ideal for social distancing, especially with so few visitors and students present in the city at the moment. If you think you can gather a group of four or five people for this gentle 90-minute stroll around one of Oxford's most attractive and inspiring locations, please contact Mark at mailto:oxfordtowpathpress@gmail.com . Suggested price £7.50 per person.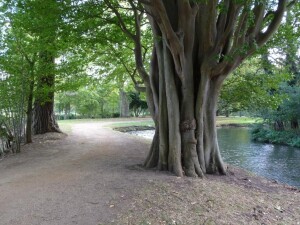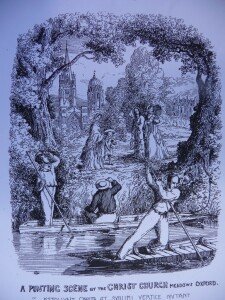 In normal times, most of my WALKS are for pre-booked tours (starting at £60 inclusive for up to 20/24 people). However, if you as an individual, or as part of a small group, would like to arrange a walk, do please still feel free to get in touch at oxfordtowpathpress@gmail.com. Or, for £30 for up to five people (lasting 90 minutes or so), you can suit yourself as to start time time and exact route.
Not sure? Please have a look at my (sadly unmaintained!) 'Customer Comments' page.
+
Oxford Indie Book Fair (rearranged date after postponement from April, then June):
Saturday 21 November: Wesley Memorial Hall, New Inn Hall Street, Oxford
WALK: 12 noon (probably). One-hour 'Damnable Oxford' historical and literary tour, including the Oxford Canal and Castle Mill Stream. Cost £5 per person (maximum 20 people). Some steps. To reserve a place or for more information send an e:mail to: oxfordtowpathpress@gmail.com