MANY SCHEDULED WALKS & TALKS HAVE, OF COURSE, BEEN POSTPONED ON ACCOUNT OF COVID-19 BUT LOOK OUT FOR SOME "LYRA'S WALKS" (arranged via Experience Oxfordshire) in  2021 – inspired by the popularity of the BBC TV adaptations of Oxford author Philip Pullman's "His Dark Materials". Also "Belle Sauvage" Thames cruises to Godstow with Oxford River Cruises.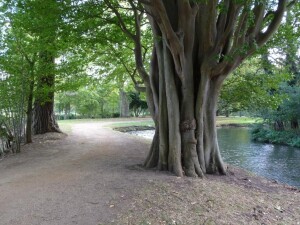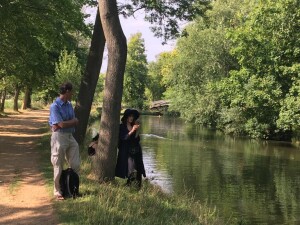 In normal times, most of my WALKS are for pre-booked tours (starting at £60 inclusive for up to 20/24 people). However, if you as an individual, or as part of a small group, would like to arrange a walk, do please still feel free to get in touch at oxfordtowpathpress@gmail.com. Or, for £30 for up to five people (lasting 90 minutes or so), you can suit yourself as to start time time and exact route.
Not sure? Please have a look at my (sadly unmaintained!) 'Customer Comments' page.
+
4 May 2021 – the actual Wonderland Day!
On-line TALK: Artists in Wonderland: Pre-Raphaelite Adventures in Oxford –  Museum of Oxford. Price £5 (book here)

There are many Oxford associations with the artists known as the Pre-Raphaelite Brotherhood, notably John Millais, William Holman Hunt, and Dante Gabriel Rossetti. A key figure was Thomas Combe, Superintendent of Oxford University Press, who was an early patron, and who also hosted introductions at his Jericho home which had a significant influence on the publication of Alice's Adventures in Wonderland. The talk features PRB artwork; the iconic 'Alice' illustrations of John Tenniel; Lewis Carroll's quirky originals; his exceptional photographic portraits of Combe, the Pre-Raphaelites, and other key contemporaries; and the 'drawling-master' John Ruskin.
+
Saturday 3 July 2021: Alice's Day
See www.storymuseum.org.uk for updates
Celebrating the 150th-anniversary of Through the Looking-Glass.
+
On-line TALK: 'Princes of Plants': the Bobart family and Oxford's 400-year-old Botanic Garden
Monday 26 July 2021:
Oxfordshire Family History Society. Details here: Talk
Oxford University's Botanic Garden, the oldest in Britain, was founded in July 1621. Jacob Bobart, the 'German Prince of Plants', was the first keeper, famed both for his horticultural skill and his eccentricities. His sons were Jacob, 'horticulture's sapient King', and Tilleman, overseer of the grounds of the new Blenheim Palace, while a later descendant became mayor of Woodstock and another was celebrated in fact and fiction as Oxford's 'Classical Coachman'. Some of the important visitors and events associated with the Garden will also be featured, including Ashmole, apes, aeronauts and 'Alice'.
+
Oxford Botanic Garden 400th Walks – July 2021
For updates see www.obga.ox.ac.uk
Monday 26 July: A short stroll with Oxford local historian and author Mark Davies focussing on some of the charismatic, eccentric, and ground-breaking (!) individuals who have graced the Garden over the last four centuries. These include early keepers such as 'the German Prince of Plants' and 'Horticulture's Sapient King'; visitors (respected, regal, and rude!); plus balloonatics, scavengers, apes, dragons, and monsters.
Tuesday 27 July: An inside-out literary stroll with Oxford local historian and author Mark Davies, both within the Garden and viewed from Christ Church Meadow. Oxford's wordsmiths were both amusing and revealing about the early keepers of the Garden, and the location is featured in works by later authors such as Betjeman, Pullman, Pym, and Waugh. The adjacent River Cherwell also has many fictional associations, and Lewis Carroll's influence is never far away.
+
Oxford Indie Book Fair (rearranged date after postponement from April, then June 2020):
6 Nov 2021: Wesley Memorial Hall, New Inn Hall Street, Oxford
WALK: 12 noon (probably). One-hour 'Damnable Oxford' historical and literary tour, including the Oxford Canal and Castle Mill Stream. Cost £5 per person (maximum 20 people). Some steps. To reserve a place or for more information send an e:mail to: oxfordtowpathpress@gmail.com
+