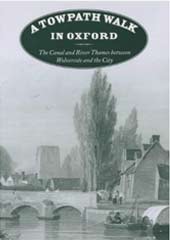 A Towpath Walk In Oxford: the Canal and River Thames between Wolvercote and the City (second edition), 2012
OUT OF PRINT

"Beautifully done, a model of its kind." ~ Margaret Drabble, novelist and critic
"A remarkable compendium of historical fact and fiction concerning Oxford's waterways. It is equally readable as a practical walk guide or as a history book." ~ Canal Boat & Inland Waterways magazine
'A Towpath Walk in Oxford' takes the reader on a near-circular walk – approximately seven miles, plus optional detours, with conveniently spaced pubs – along the Oxford Canal and back up the River Thames.
Spanning a history of more than 200 years, the canal passes through a varied landscape: from the peace of the village green at Wolvercote, through the water meadows of north Oxford to the Victorian suburb of Jericho, and on to the former coal wharves of the city centre.
The Thames path follows a more rural route, through the tiny hamlet of Binsey, with its famous church and Treacel Well nearby, skirting the pastoral expanses of Port Meadow, and on to the romantic ruins of Godstow Nunnery to the north.
Drawing on archive records and oral histories, the authors describe all the notable landmarks and tell the stories of the characters – eccentric, resourceful, or notorious – who have lived and worked on or beside the water, both in recent times and long ago. The new edition includes new, updated, or previously unpublished material relating to:
 The transformation of Great and Little Bear Meadows into the Victorian suburb of Jericho.
The ongoing community effort to retain a boatyard in Jericho, championed by Philip Pullman.
The safeguarding of the Trap Grounds Nature Reserve.
Some of the earliest Oxford boat-residents: members of the colourful Beesley, Bossom, and Davis families, whose associations with the river in Oxford go back centuries.
The histories of The Perch and The Trout.
The romantic ruins of Godstow Nunnery, and associated story of Rosamund the Fair.
The Pre-Raphaelite connections with Jericho, Port Meadow, and Wolvercote.
The co-author Catherine Robinson has lived in Hayfield Road, within sight of the canal, since 1982. She is the author (along with Elspeth Buxton) of Hayfield Road: Nine Hundred Years of an Oxford Neighbourhood.
© Oxford Towpath Press 2012.