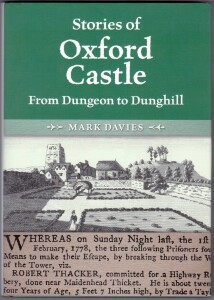 Stories of Oxford Castle
From Dungeon to Dunghill
Revised and enlarged 2019 hardack edition : £10

Read about some of the most daring, devious, or deluded individuals ever to spend time inside the walls of Oxfordshire's county prison.
Meet, for instance, Elizabeth Boswell, a Gypsy who escaped not once but twice; the enigmatic Peter le Maitre – could he have been the French revolutionary Marat?; Anne Green, who survived her hanging to become an instant celebrity; Isaac Darkin (alias Dumas), the epitome of the debonair highwayman; and Stephen Colledge, whose Oxford execution was performed by England's most infamous hangman, Jack Ketch.
The gaolers too were a colourful lot, including the inadvisably named Solomon Wisdom, for whom a dunghill was his downfall, and Daniel "Damnable" Harris, a man whose great and enduring importance for Oxford is only just being realised.
These stories of imprisonment, transportation, escape, and execution shed new light on the enthralling story of this major Oxford landmark. But they also expose in dramatic and often touching detail the social conditions which caused so many Oxfordshire citizens to experience the insides of Oxford Castle Prison in the first place.
© Oxford Towpath Press 2005, 2006, 2019.