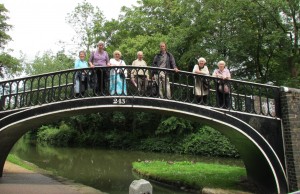 Photo: courtesy Charlton WI
"I will take you walking with me to a place you have never seen; Half town and half country – the land of the Canal" James Elroy Flecker, 1906 (but equally true today!)
Group Walks Along the Canal and River Towpaths of Oxford
"I thought a canal was a grimy place and that we should have a great deal of rough company … but this is quite beautiful, and we have it all to ourselves."
This comment about the Oxford Canal from a Victorian novel still rings true today. A step or two along the towpath and the 21st-century bustle of Oxford is soon forgotten. This is a calmer, gentler world of trees and water, boats and swans, anglers and birdsong, and still the "half town and half country" of a poem of the early 1900s.
If the canal in Oxford still provides glimpses of its unchanged past, the Thames is even more timeless. In the 1790s a boat passenger found "scenes which the most playful imagination could not hope to find in a navigable river, winding round a large and populous city". Such 'scenes' still exist.
The river is most notable for its picturesque views and changing moods, the canal for the stirring story of its survival. Both waterways are testimonies to the many individuals – resourceful, eccentric, or notorious – who have shaped the precious and vibrant 'living heritage' we see today.
Want to know more? Then come on the only Oxford tour of its kind with local historian, author, publisher, and long-term canalboat resident, Mark Davies. Other walks: city, universoty and Alice in Wonderland also available.
"Thank you so much for doing such an interesting River/Canal walk for our members. We had an excellent turnout and it seemed to be greatly enjoyed by everybody."
"I have been shown a whole new – and exciting – side of Oxford which I knew existed but had scarcely begun to know or to appreciate."
"Reveals a completely 'secret' side of Oxford."
"Just wanted to say thank you for the very interesting walk yesterday and to say how interesting and useful I found your book. All in all it was a very fruitful day."
Book a Walk