The tours I lead on the theme of Lewis Carroll's 'Alice' are usually for pre-booked groups (though discounts for small family groups are available), but here is a way in which you self-guide yourself to the most important locations around the city at your own leisure: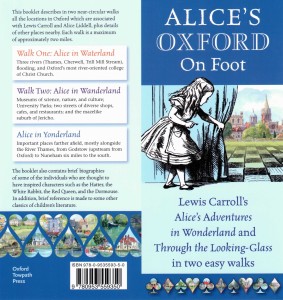 Published in June 2014 (slightly revised 2022) the booklet comprises two near-circular walks – 'Alice in Waterland' and 'Alice in Wanderland' – of approximately two hours each (not including time spent inside various locations on the routes), as well as information about some places a little farther afield ('Alice in Wanderland'). Illustrated with commissioned watercolours by Valerie Petts and archive images, plus map.
Price £4 (payable to Mark Davies) including postage and packing from 61 Tumbling Bay Court, Henry Road, Oxford, OX2 0PE. Or e:mail to request bank account details.